We are so thankful to have a tip from a pretty professional blogger that we LOVE, Hayley from The Tiny Twig. She doesn't JUST have a fabulous blog (The Tiny Twig), she also has just written a wonderful e-book that we highly suggest (No Brainer Wardrobe) and you can find her on twitter too! Enjoy!
As my blog has entered its second year of existence, I have transitioned from a hobbyist blogger to a part-time professional blogger. This has, more than anything, demanded more organization. If you know me, my idea of organization looks like this.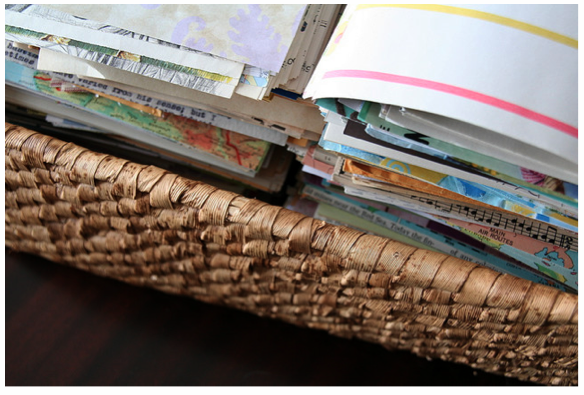 I quickly realized that piles were not going to help me grow my platform online. Too many things were falling through the cracks, I was unable to visualize a project from start to finish, and really it was just hard to keep all of my worlds and my responsibilities straight.
So, about a year ago I started using Evernote as my "organize all things" solution. I have made my life far more paperless because of this. It is free in it's most basic iteration, which thus far has been all I've needed.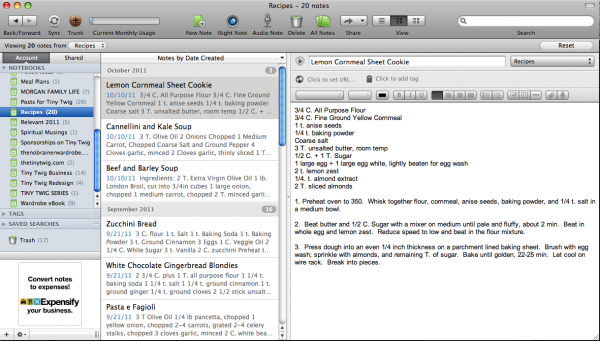 I use it to keep track of all the random recipes I collect on scraps of paper, disclosed by friends after a particularly great meal. I use it to brainstorm blog post ideas, eBook ideas, and the like. I use it to keep track of new revenue streams. I fill a notebook with research if I have an especially complex post coming up. I have a notebook particularly dedicated to snippets of CSS or HTML code that I don't want to forget. You name it, I probably have an Evernote notebook for it.
Evernote is one of those applications that you can barely scratch the surface and still have a really fantastic service...or you can plumb the depths and eek out every ounce of productivity magic. Leadership blogger (a favorite of mine) Michael Hyatt has a whole slew of posts about Evernote. He is actually on the Evernote team now, he is that devoted.
A great feature of Evernote is the web-clipper, which allows you to clip bits and pieces of websites or blogs directly into Evernote. You can then make notes about that clipping. This is completed most easily through a browser extension.
This can almost serve as a private Pinboard (a la Pinterest). You know, those ideas that are really good, but you don't want everyone saying "oh yeah! I saw that on Pinterest!".
The brilliant part of Evernote is it is virtually a blank slate. Just like a collection of hard copy notebooks--they can be filled with anything. Love notes to lecture notes. Recipes to receipts. You can scan documents into Evernote and make your office paperless. You can keep important documents for tax time ready at any time.
One thing I love about Evernote is they have a desktop app and mobile apps. The information is synced automatically, so I can access those recipes when I'm at the grocery. Or, I can look at the measurements I have when I'm out looking at real estate. Everything within Evernote is also searchable. Can you imagine that? Everything from your brain, your business, and your life--backed up, searchable, and sharable? It is revolutionary, especially for women balancing family along with creative pursuits.
I would encourage you to take a look at Evernote and see how you can weave it into your workflow. Do not be surprised if you get sucked in to Googling all the ways to use it. And also, don't be surprised if the way you use it is completely different from me! I think that's the part I like best about Evernote. They provided the tool and said, here! Figure out what you want to do with it!